The Most Wildest Sports Bets
Trying to see if you can predict what will happen next in a sporting event creates the wildest sports bets. Overall, anyone watching a game has predictions and guesses as to which team will win. Given the amusement of guessing per say who will get that goal or which player will return from an injury, there are wilder bets. In the world of professional sports, unpredictable outcomes or spurts of passion can potentially yield crazy results.
There's nothing guaranteed in the world of sports betting and as a result, the stakes are high.  Frequently a punter's passion gets the best of them consequently they end up squandering far more than they had planned. On the other hand, when the stars align, an insignificant bet with insurmountable odds can end up giving a huge payout. In regards to the wildest sports bets, punters experience the highs and the lows of the betting industry.
14. 50 CENT ON THE MAYWEATHER-PACQUIAO FIGHT
On May 2, the fight between Floyd Mayweather Jr. and Manny Pacquiao occured. Additionally the Rapper 50 Cent took a sincere interest in this particular fight. Moreover he bet $1.6 million dollars, to be exact. 50 Cent bet a cool 1.6 million dollars on Mayweather beating Pacquiao.
Although the two have feuded before, 50 Cent implied that Mayweather can't read a kid's book without making an error. In the long run, he seemingly agreed with the odds that ultimately favored Mayweather.  To be sure, $1.6 million dollars is a lot to to put on a single fight warranting it to be among the wildest sports bets.
13. PAPA MCILROY BETS ON HIS PROGENY
In the first place, Gerry bet 200 British pounds in 2004 that his son would go on to win the British Open by the time he turned 25 years old. Furthermore, the bet had 500/1 odds, so in essence it was a wild sports be to be sure and ultimately, it paid off. This proud father cashed out a cool $171,000 dollars. In addition, two of his friends bet their own 200 pounds with the odds slightly better at 250/1 and furthermore they earned tens of thousands.
Learn more about sports betting tips and the tup EU sportsbooks to place your next bet.
12. NICOLE GRANT
In the first place, Nicole was a devoted Green Bay Packers fan who bet her husband John that her team would destroy the Chicago Bears, in a match up. To point out, she was so confident that she heightened the stakes of the bet. In essence, she bet if the Packers lost, he could taser her. All in all, she lost her sports bet with her husband and this crazy sports bet came back to taser her in the end. In summary, her husband actually tasered her not once but three times, according to Yahoo! Sports. The moral of this crazy sports bet is to make better bets.
11. GINO DIFELICE
Canadian Gino DiFelice placed a $5 bet on the Seahawks correctly predicting 15 NFL picks. By and large, it was down to the Monday night game between Green Bay and Seattle. In the long run, if the Packers would have won, DiFelice have had to split the pot.
However at the last moment, the Seahawks won and DiFelice walked away with $725,000. This bet is amongst the top craziest sports bets because the game in question was the 2012 Packers-Seahawks face off that many called the 'Fail Mary.' As a result of the ref's call. In any event, DiFelice was probably pretty happy because it allowed him to hit the jackpot.
10. DARREN YATES
The punter Darren Yates had a whole lot of faith in the jockey Frankie Dettori. On the negative side, Yates had a failing carpentry business to his name. In addition, he had a wife that banned him from putting any sports bets towards Dettori and he was experiencing signs of problem gambling.
Despite all this, Yates placed  67.58 British pounds on an unlikely bet that Dettori would ride the winning horse in seven races. Furthermore, Dettori went on winning race after race. In sum, Yates received over $860,000 USD.
9. JONA RECHNITZ
Jona Rechnitz may be able to tell you something about the multiple levels involved in the  wildest sports bets. First off, Rechnitz is a real estate owner in New York. On the whole, he bet $1,000 in the 2012 Super Bowl that the first score would come from a safety. His bet won and he got $50,000.
Afterwhich, Rechnitz took his winnings and placed another bet on the Super Bowl 2014. On this bet, he wagered only $500, and incredibly he went on to win again. In the final analysis, Rechnitz won $25,000 at 50/1 odds. Learn more about how to increase the likelihood of the sports bets you win.
8. RICHARD HOPKINS
Richard Hopkins was one of those parents that go root on their child at a sporting event. In a race against his son on a go kart track, Hopkins saw a young Lewis Hamilton and was very impressed by the teen's driving skills. Thereafter, he decided Hamilton would eventually do big things in Formula 1 racing, and put a bet of 200 British pounds on the prodigy winning an F1 race before he hit 23.
Then Hamilton won at 22 and consequently, Hopkins won 40,000 pounds. In addition, Hopkins made two more bets: 100 pounds individually on 500/1 odds that Hamilton would get a F1 world title before 25 and 50 pounds in a joint venture on the same bet. His bet paid off handsomely as his three bets got Hopkins 165,000 pounds, according to The Telegraph.
Learn more about popular sports bets in sports betting and therein increase your knowledge.
7. STUDENT LOAN
A student sports bettor put all his student loan on a bet. In sum, 4,400 British pounds on Angola in the African Cup of Nations. Overall it seemed like a safe bet since Angola was winning 4-0 when he placed the bet with 11 minutes of the game remaining.
The student was not at the top of his class. To be sure, even if he won, he would have earned a mere 44 pounds more. The wildest sports bets don't mean the punter always wins.  He didn't win and moreover, Mali made an incredible comeback over Angola thus the student lost it all. 
6. ERICK LINDGREN
First off, to bet on yourself takes confidence. Punter Erick Lindgren made a bet with his friends that he would play four rounds of golf in one day. Afterwhich, he upped the ante, saying he would do it in 100+ degree Las Vegas heat, while carrying his own clubs. In addition, she would shoot from the pro-level golf tees and manage to score under 100 on all four rounds he played.
This seems to be among the wildest of sports bets. Altogether, the bets totaled $340,000 that Lindgren wouldn't be able to do it. However, Lindgren managed to pull it off and pocket a create-your-own customized jackpot sponsored solely from his doubtful friends.
5. CARDINALS CRAZE
In regards to the wildest sports bets, an unnamed St. Louis Cardinals fan,  bet $250 that the Cardinals would make the World Series in 2011 with 500-1 odds. Moreover he made an additional bet at $125. This time at 999 to 1 odds, that the Cardinals would win the World Series. In any event, the Cardinals ended up winning game after game and thereafter took the World Series title that year. This unnamed St.Louis Cardinals fan won $375,000.
4. BILLY WALTERS
Billy Walters placed a bet on the New Orleans Saints in their Super Bowl against the Indianapolis Colts. An important factor of this wild sports bets is Walters placed a $3.5 million bet on the underdog. Walters even admitted on a 60 Minutes interview, that the bet was too high. Even this sports bettor knew he was caught up in the thrill of betting. On the whole, he won but by and large, he placed a 3.5 million bet which is pretty darn wild.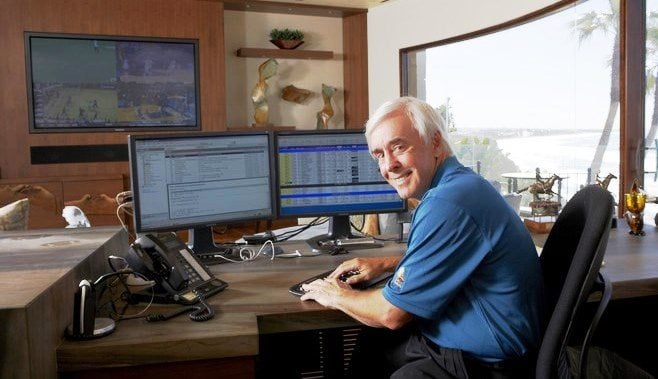 3. GERMANY/BRAZIL BLOWOUT
On the whole, the 2014 World Cup game between Germany and Brazil had a 7-1 win. In regards to crazy sports bets, an unnamed soccer fan not only bet that Germany would win 7-1, but also that Sami Khedira would score a goal. Ultimately he bet $20. However when he managed to win with 2,319 to 1 odds, the punter walked away with a cool $46,000.
2.MAYWEATHER 
"Money" Mayweather has an incredible net worth. Moreover some of his bets are among the wildest sports bets. For instance, Mayweather wagered $5.9 million that the Miami Heat would beat the Indiana Pacers in Game 7 of the 2013 NBA Championships. In the long run, he won $600,000.
1. MICK GIBBS
Ultimately Mick Gibbs a roofer from Staffordshire in 2001, made a 30 pence bet on a 15-fold accumulator bet. Overall, Gibbs had to pick the winning team in 15 soccer games. By and large, the odds were 1,666,666 to 1 ranking this among the wildest sports bets. Despite the odds, he won, and what was a 30 pence bet experienced a return of 500,000 British pounds.
In conclusion, there a lot to consider when it comes to sports bet and the sports betting industry. The stakes are high, the odds are as well, and sports bettors continually try to win against it all. Learn more about sports betting through reading the 7 sports betting books.