The Benefit of Betting With Bitcoin Wallets at Sportsbooks
For many sports bettors, the pros of betting with Bitcoin wallets at sportsbooks will definitely outweigh the cons. Among which are the key features of speed, ease of use, versatility, safety, and anonymity. Leading sportsbooks are embracing cryptocurrency and therein making digital currency central to their offerings in regards to payment platforms. With this in mind, betting with Bitcoin Wallets is lucrative for both punters and sportsbooks alike.
The advantages to betting with cryptocurrency are numerous. Overall, Bitcoin comes with no or few transaction fees which are an advantage over other currencies. To be sure, one of the biggest advantages is the anonymity bitcoin offers. In the long run, the transactions are safe because a sportsbook only has the punter's transaction code, eliminating the possibility of identity theft.
Equally important is avoiding the restrictions and lengthy transaction times that come with other currency transactions. Bitcoin cuts to the chase since it's an online decentralized bank and its transactions are swift and expeditious. Notably, sportsbooks like Bovada, Bookmaker, BetOnline, Intertops, and 5Dimes all accept Bitcoin. With this in mind, a punter only needs to register for a Bitcoin wallet and then after, let the action commence.
In the long run, wagering with a Bitcoin Wallet is not only easy, now it is a trend that deserves attention. Take, for instance, Bovada, where there is no handling charge for deposits or withdrawals with Bitcoin Wallets. In addition, validation only takes just a couple of minutes and in the long run, the process is extremely smooth and painless.
The Pros and Cons of Digital Currency
On the negative side, Bitcoin is a new currency. As a result, it is not at all as stable as fiat. In fact, it is ultimately prone to large fluctuations and is thought to be a gamble in and by itself. Coupled with, if you bet in bitcoin, by the time it pays off, the currency could have decreased so much that it totally negates your win. On the positive side though, it could soar upwards too so that you get a double win.
First and foremost when considering betting with Bitcoin is that it isn't wise to leave currency stored for too long. To avoid possible fluctuation, a punter should strive to transfer their cryptocurrency back into a fiat currency periodically. Additionally, make sure to choose a sportsbook with good liquidity and an established reputation.
To place bets with digital currency and thereby enjoy its many benefits, a punter first needs to set up a free bitcoin wallet account by purchasing Bitcoins from independent market exchangers. After depositing currency into a Bitcoin wallet, the bitcoins are directly transferred to your account. Thereafter, a punter is able to transfer their Bitcoins to a Bitcoin sportsbook account.
Step-By-Step Guide To Creating a Bitcoin Wallet
1.) Choose an eWallet provider.
From the list below, punters can choose from the top Bitcoin eWallets in the marketplace. Wallets are how a punter stores their Bitcoins. This is how they are kept safe.
2.) Acquire Bitcoins.
Bitcoin broker such as CoinMama or Bitstamp offers the purchase of Bitcoins. In addition, there are BTC marketplaces, such as LocalBitcoins and Paxful. On the other hand, a punter can also acquire them from Bitcoin ATMs.
3.) Transfer Bitcoins from your wallet to the sportsbook of your choice. 
The Sportsbook will provide a Bitcoin deposit address. When a punter is ready to make a deposit, then they transfer it to the sportsbook of their choice. After a punter cashes out their winnings, the sportsbook will send the digital currency directly back to their eWallet.
7 Bitcoin Wallets to Wager With 
In regards to Bitcoin Wallets, punters are on the look-out for the most convenient. As well as the most reliable, and secure. With due thought given to the distinguishing differences between them. With all this in mind, check out the following Bitcoin Wallet breakdown.
7.) Blockchain.info
One of the most popular eWallet services in use as a result of its simple interface.
Over 7 million people use this web eWallet.
Keep your account secured via an advanced two-factor authentication process which uses SMS, Yubikey or Google Authenticator as well as key encryption. 
Transfering Bitcoins back and forth between Blockchain and sportsbooks is ultra-simple.
Quickly complete transactions through a browser or on your phone. 
Equipped with security features. For example, they have client-side AES (Advanced Encryption Standard). This special algorithm protects highly sensitive information.
Main features include hierarchical deterministic address architecture, security audits, client-side encryption, open source software, dedicated support team, transaction fee adjustment, interoperability, login IP restriction and second password protection.
Another key point, more than 20 conversion rates are supported as well as over 25 languages. 
6.) Mycelium
One of the earliest mobile Bitcoin eWallets.
Mycelium wallet is the number 1 Bitcoin Wallets in regards to Android.  
The best Bitcoin wallet on Google Play at the moment. 
Available for Android and iOS devices, and downloadable for free. 
Offers a lot of nice security features. For example, make use of the "Watch Only" feature.
Store large amounts of Bitcoins with added security by deleting the private keys, and importing them when you need them.
Offers punters the ability to set up in HD, BIT ID, Single Address, Hardware and Watch Only accounts, all of which are available within the app. 
Offer punters the possibility to buy/sell bitcoin, pay bills, use hardware security tools and moreover, hedge against USD and other fiat currencies. 
5.) Ledger Nano S
One of the smallest hardware eWallets available.
Ideal for storing your Bitcoins offline, and transferring them at leisure to sportsbooks.
In the long run, the Ledger Nano S costs €58, or approximately US$70.
On the positive side, with Bitcoins in cold storage, hackers are unable to get to them.
By and large, your private keys are never exposed.
Built-in display to easily verify transactions.
Another key point is that if the Ledger Nano S is stolen or lost, a punter can quickly restore their wallet with a 24-word seed.
4.) Trezor.io
The Trezor is currently priced at €89, or approximately US$106.
The device is compatible with all major platforms including Android and iOS as well as Windows and Linux. 
Offers a unique password management feature encrypting passwords for added security.
 To be sure, punters can restore their wallet in the event it's lost, stolen, or damaged.
3.) Electrum.org
On the whole, Electrum is both a desktop and mobile app.
Downloadable for your desktop computer or laptop as well as Android or iOS.
Private keys are encrypted. Moreover, a punter is able to create multiple wallets, and therein split permission with its multi-sig feature. 
Additionally, there is Electrum's "No Lock-In" feature which exports private keys.
Most importantly, punters can "cold store" their bitcoins by installing it on a second computer that remains offline.
Feature-rich, ultra-secure and surprisingly easy-to-use. 
The most popular bitcoin wallet for desktops.
Offers key features. For instance: Instant On, No Lock-In, Proof Checking, Cold Storage, Multisig, Add-Ons, and No Downtimes etc.

2.) BreadWallet.com
This mobile app is available free of charge for both Android and iOS.
User-friendly and ideal for those who are new to using Bitcoin for sports betting.
This wallet doesn't run on a third-party server. Essentially, it's an independent app which connects to the BTC network at a punter's request which adds security.
Breadwallet is a standalone Bitcoin client. In other words, the company does not run on a server that can get hacked or shut down.
Always free to access your funds and make transfers, without interference. 
Beauty in its simplicity.
1.) GreenAddress.it
This is a cloud-based wallet. 
Distinguishes itself by being a multi-signature wallet. It controls one of the keys while giving the account holder, control of the others.
Free to use.
Comes with a "Watch Only" feature. This feature allows the punter to log into their account. So as to check the balance and receive funds.
5 Sportsbooks Accepting Bitcoin Wallets
– Deposits and withdrawals in BTC. They specifically offer bigger bonuses for Bitcoin at Bovada.
– Deposit quickly and easily with Bitcoin. Punters can also withdraw with BTC.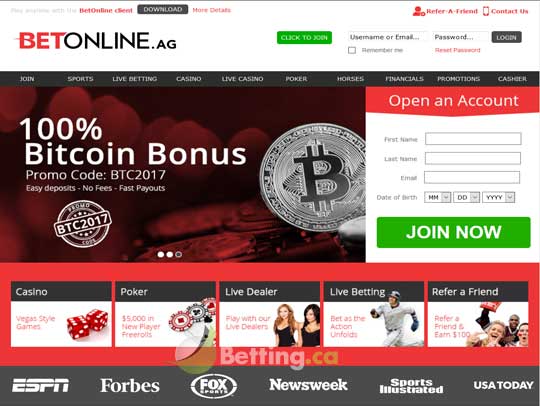 – Deposit easily with BTC. In addition, withdrawals are also available via BTC.
– This is a BTC only sports betting site. It offers extremely low juice as well as a competitively small house edge. Furthermore, it accepts BTC only for deposits and cash outs. By and large, this site was specifically designed to utilize BTC. As opposed to other betting sites existed which simply adopted Bitcoin as a payment method when the trend arose. 
– Punters receive a huge bonus of up to 5 BTC at Cloudbet, the bitcoin-only casino. They're already known for a great user experience. Plus, with the live betting combined along with instant cash outs, provably fair games, and great odds, this Bitcoin sportsbook has a fantastic reputation making it a notable and credible online casino which takes eWallets.
Hungry for more information in regards to cryptocurrency? Then check out the 3 Sports Bitcoin Sportsbooks to check out now. In conclusion, the time is now to bet on eWallets.