Incredible Sports Betting Scandals
In the first place, sports betting scandals make for quite the read, overall describing the underbelly of sports betting. On the one hand, there's the opportunity of winning and on the other hand, there's immense loss. Such are the stakes of a sports bettor, as each bet they place dares the odds of a stacked house. On the whole, sports betting scandals and controversies such as the the 1919 World Series contained match fixing and point shaving. 
In the same fashion, the controversies surrounding many sports betting scandals involve high-profile players, referees and coaches. Whether they simply sought to earn some money on the side, the fact remains: these players, referees and coaches are sports bettors at heart willing to play risky odds. What makes sports betting controversies so sensational  throughout the world is how lucrative the market is and how much there is to win and lose.
 Sports Betting Scandals Love Playing Risky Odds
However, since the evolution of sports betting markets, the escalation of sports betting scandals hit the press. Demonstrating how tantalizing the stakes of sports betting  can ultimately prove to be. In addition, sports betting controversies also uncovers a peek into how deep the sports betting rabbit hole actually goes. 
As a matter of fact, sports bettors are not just watching their bets unfold from the stands. On the contrary, it seems sports bettors are often affiliated with the sport very closely. For example, the NBA fired referees in correlation with sports betting fraud. In addition, the NHL uncovered an assistant coach that was taking bets from players. Furthermore, the MLB found a coach guilty of stealing to pay off gambling debts.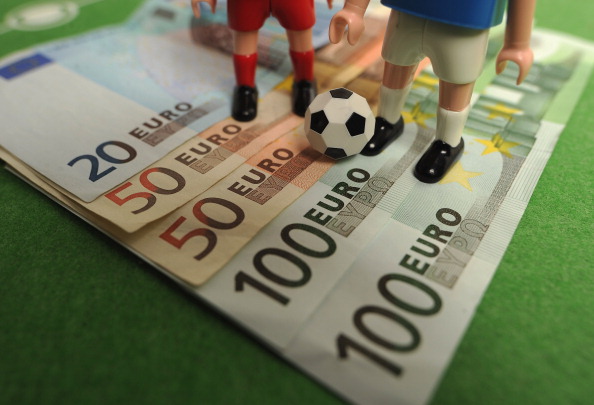 Sports Betting Scandal Shockers
8. 2007 NBA Betting Scandal
Sooner or later, sports betting scandals seep to the very top or at least such is the case in the 2007 NBA betting scandal. Back in 2007, the New York Post accurately reported  of a ref that was using inside knowledge to bet on NBA games. As a matter of fact, the referee used inside sports betting information to make money which is of course illegal.  
In light of shock that one of their own was involved in nefarious activity, the sports betting scandal shook the NBA. Sometimes shaking a tree is exactly what what it needs so as to let go of what is a 'bad apple.' And that bad apple was Tim Donaghy. Since 2005, Donaghy had been found to have been using player's personal information for his own gain. For example, player's injuries, relationships, and other vital information he used to his advantage. 
Donaghy explained after surrendering to police that he had utilized coded language to tip off other gamblers. In the long run, he had received about $30,000 from bookies to do just that. On the whole, Donaghy was sentenced to 15 months in prison as well as three years of probation on felony conspiracy charges.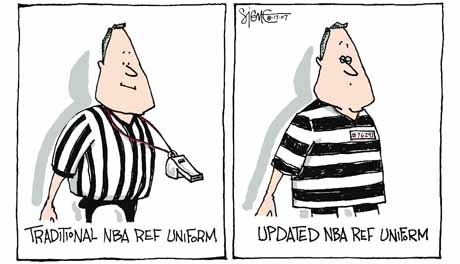 7. New York Mets Manager Pleads Guilty
Coupled with issuing loans to himself through the club, and stealing memorabilia, Charlie Samuels, the clubhouse manager for the New York Mets was fired amid charges of gambling with bookies. On the whole, Samuels was in fact, a well-known, reputable employee of the New Yorks Mets organization since 1976. On the positive side, Samuels was never formally charged with illegal gambling.
However, he did lose the sweetest job possible by continuing to make risky bets and by placing it all on the line. In the long run, Samuels was indeed charged with criminal tax fraud. He was also found guilty of stealing over $2 million worth of team memorabilia and collectibles. 
Learn more about sports betting by reading more about reputable sportsbooks. For instance, the 10 Sports Bettings Apps that'll change the way you place your sports bet. 
6. 2009 European Football Scandal
Match fixing is as old and as played as the very sport that it preys upon. Therein match fixing is the culprit of the 2009 European Football Scandal. It is important to realize that it is one of the largest investigations into European football ever. Over the course of the investigation, it came to surface how intricate this sports betting scandal was. With nearly 200 matches in several European countries, as well as 12 qualifying matches for the EUFA Europa League, including three UEFA Champions League matches, all of which were ultimately fixed. 
Phone tapping ultimately delivered the details. In sum, several smaller football clubs were fixing matches in a deliberate effort to make money. All of which pieced back to a Macedonian club, FK Pobeda.
Obviously the organized crime members were found, arrested, and charged. To be sure, the pressure was on Patrick Neumann, who was captain of SC Verl. In the end, Neumann confessed to his involvement. Furthermore, he confessed intensive details of the largest fixed football scandal operation ever operated in the UK.
5. Sumo Wrestling Match Fixing in Japan
In 2011 it was found that up to 13 senior Sumo wrestlers had been involved in match fixing and moreover on betting on outcomes of matches. As a result, it marked the first time in 65 years that the Japan Sumo Association's Grand Tournament had been cancelled from the investigations as well as an overall lack of trust amongst competitors.
Again, the truth was delivered via searching phone records in an illegal baseball betting operation between wrestlers and middlemen in 2010. All of which was a dramatic sports betting loss. All of which caused serious shame to the Japanese, an intensely proud culture which prides and esteems respect and discipline. 
4. Paul Hornung and Alex Karras Get Busted
Apparently even star athletes need a side job. Green Bay Packers running back Paul Hornung and Detroit Lions defensive tackle Alex Karras created the perfect side job which they thought they could do while they were at their main job. The two were unfortunately found out and busted as they thought they could get away with betting on their own games. 
In the first place, Hornung was the NFL MVP in 1961. On the other hand, Karras was an All Pro tackle in each of the previous three seasons. In conclusion, it was discovered that Hornung was betting as much as $500 a game, which is $4,000 today. Karras was in fact betting anywhere from $50 to $200. Check out the wildest sports bets of all times now.
Once the two were found out, the NFL Commissioner Pete Rozelle suspended the duo for the entire 1962 season. Along with Hornung and Karras, five other Detroit Lions were also suspended for their parts in one of the most notorious sports betting scandals. Despite this sports betting offense, in 1986, Hornung was successfully inducted into the Hall of Fame.
3. 1978-79 Boston College and the Mob
During the Boston College Men's Basketball season in 1978, a little point shaving scheme was devised by small time gamblers Rocco and Tony Perla and soon recruited Rick Kuhn. In brief, they used point spreads in which there would be a large margin. Thereafter, Kuhn made sure that BC did not cover the spread. Find out what more about what makes Spreadex so unique in contrast to other betting sites.
Overall, Kuhn received around $2,500 per bet that won. Moreover, Kuhn recruited two more teammates to join which introduced Henry Hill, a Lucchese crime family associate from New York. What goes up, must come down and the scheme came to an end in 1980. Consequently Hill was arrested on drug charges and thereafter, he snitched on the group. As a result, prison terms ranging from 10 to 30 years on racketeering and corruption charges were dispersed for all the parties involved.
2. 1951 NCAA Point Shaving Scandal
To be sure, the City College of New York made their way to be crowned NIT and NCAA Tournament Champions in 1950. However they went even further than that in one of the most notorious sports betting scandals ever. In February 1951, the NYC district attorney arrested seven men on charges of conspiring to fix basketball games; of these men, three were stars on the CCNY championship team.
The scandal involved New York University, Long Island University, Manhattan College, Bradley University, the University of Kentucky, and the University of Toledo. Kentucky was forced to sit out the entire 1952-53 season. The CCNY ended up moving to division III while LIU would have to drop all athletic programs from 1951-1957. It wasn't until 1982 that the NCAA scheduled tournament games in the New York area again.
1919 Chicago Black Sox
During the 1919 World Series between the Chicago White Sox and Cincinnati Reds, eight players were accused of deliberately throwing the series in exchange for cash. The players decided to throw the series. As a result, there was evidence of massive bets on the Reds before the game even start which caused the odds to fall.
Announcers immediately noted this and soon after, the Sox lost the bets of nine series in eight games. In brief,  Shoeless Joe Jackson and Eddie Cicotte admitted to a Chicago Grand Jury their involvement in the scheme in September 1920. The jury acquitted all players involved. However the first ever MLB Commissioner,  Kenesaw Mountain Landis, placed all eight players on the ineligible list.
Learn more about sports betting losses and sports betting winners to gain an advantage on your next sports bet. Keep your sports betting vocabulary up to date too with this lingo list.