The Worse Sports Betting Losses Of All Time In Sports Betting History
On the whole, winning is more favorable in regards to sports betting, yet sports betting losses are essentially just as momentous. On the negative side, they embody the dark side of the gambling industry.  In essence, as big of a jackpot can be at sportsbooks, there's even a bigger percent chance that punters experience loss. Moreover, with the tendency to chase losses and place large wagers, punters often wind up in an impossible financial rut. 
For fear that they are merely one bet away from a landslide win, punters are notorious at risky bets. After all, a bet is a risk no matter the amount of the wager placed. With this in mind, given a losing streak and a considerable wager, loss is inevitable. In the event that there is a loss, it takes a strong conviction and fortitude to walk away. Indeed the greatest stories are not those of moderation. As a result, the worse sports betting losses specifically and ultimately testify to the devastating pitfalls of the gambling industry.
Strengthening bankroll management from allotting a time limit to gambling to enacting a gambling budget creates a strong foundation for a betting strategy. Secondly, creating healthy sports betting habits like diversifying sports betting investments and only betting with an edge provides punters with an upper hand while playing against a stacked house.
Most importantly, not chasing a loss especially with money that you don't have is key to self-preservation. All of these tactics, may not prove to be enough especially when considering the overall odds involved. However, healthy betting tactic certainly make a definitive difference differentiating a sports betting loser from a sports betting winner.
11 Sports Betting Losses That'll Make Your Wallet Cringe
To be sure, loss comes in numerous ways. In brief, loss extends far deeper than financial. In the gathered accounts below, discover how deep the sports betting losses rabbit hole falls.
11. $822, 500 loss and Bankruptcy 
Basketball player Antoine Walker racked up a whopping $822,500 in betting debts between three Las Vegas casinos. When Antoine eventually paid off the debt using a checking account, he did so with a bank card that did not have insufficient funds. This in fact got him arrested. Although Antoine Walker successfully accrued more than $100 million in his career, he also successfully failed in bankroll management because on the whole, he had to file for bankruptcy. 
10. Losing £30,000 after betting on ONE game of Rugby
A 56-year-old-roofing contractor named Steve Richards would only win small bets until his lucky day. In brief, Steve bet £10, with the odds against him 3,861/1. Afterwhich, he successfully guessed 12 different rugby matches results winning £38,970. However, less than a week later, Steve bet on a rugby match between Wales and Australia.
Steve bet £30,000. If sum, if Wales beat Australia, Steve would have won £55,000. Yet this article is the 'All Time Biggest Gambling Losses of All Times' not the 'Biggest Gambling Winners.' Therein Wales lost the game, losing a collective £30,000. However, he says that he has no regrets and moreover, he's learned to never bet against Wales in a rugby match.
9. An MVP Is Kicked Out Of Football
Paul Hornung was the first Super Bowl winner of four World Champion Green Bay Packer Teams, a Heisman Trophy winner and a NFL MVP in 1961. Along with fellow NFL player Alex Karras, Paul and Alex were both banned from the league for betting on football games. In fact, Hornung and Karras both bet between $100 and $500 on multiple NFL and NCAA games. While in fact the wager was not large, the loss of being kicked out of the sport is huge. 
8. $30,000 and an Athlete's Suicide
This is by far the largest loss of all in regards to sports betting losses. The young and talented Broncos receiver Kenny McKinley killed himself last fall, shortly after an injury ended his football season. Furthermore, another key point that shadowed his death was that he had borrowed $65,000 from a former teammate in attempts to pay off gambling debts. For instance, one included up to $40,000 being owed to Las Vegas casinos. The financial rut Kenny found himself contributed to his depression and sadly, it took his life.
Recognize the symptoms of problem gambling before it contributes to greatest amongst all gambling losses: loss of livelihood.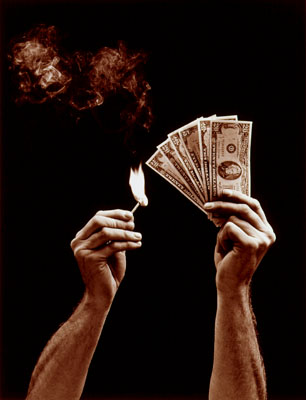 7. $500,000 in sports gambling losses and the IRS sues
Back in 1997, a punter known as Jaromir Jagr ran up a $500,000 line of credit at a Belize sports book. However the day come when Jagr stopped making payments on his debts. In what could be considered public shaming, the sportsbook leaked the story to the media. The debt was settled, but on the other hand, Jagr had also settled an additional $350,000 debt with another gambling enterprise. Thereafter he continued his losing streak by fighting the IRS, who declared that he owed a whopping $3.27 million for his unpaid taxes back in 2001.
Check out 13 celebrities who played the odds and lost like they were booked for the role.
6. Lost $700,000 in one weekend betting on the Super Bowl 
It takes strength to admit weakness. Consider the strong athlete Charles Barkley. He confessed on ESPN that his gambling problem has cost him close to $10 million. Yet just like most celebrities with big bankrolls who partake in gambling, Barkley insists that he doesn't need to quit since overall, his income levels permit that he can "afford to gamble."
5. Fired and Under Investigation
The old age, you don't know what you have until it's gone proves true for New York Mets clubhouse manager Charlie Samuels. Charlie is currently under investigation by the NYPD and the Queens DA for betting on baseball games. In addition, Charlie organized a gambling ring, as well as provided insider tips in regards to each game. Moreover, using the Mets bank accounts to cover his own debts.
In sum, there are recordings of Samuels making illegal bets on various sports. Additionally mob associates talking about how helpful Samuels' inside information is. As a result, Charlie lost his clubhouse manager job at the New York Mets and he's currently under investigation. 
4. $1.25 million loss and a suspension – The Jordan Conspiracy Theory
Rumor has it that Michael Jordan's first retirement from basketball in 1993 was not a retirement as much as a secret suspension brought on by his excessive gambling habit. While early retirement may seem idyllic, to Michael Jordan it probably felt like a death sentence. Richard Esquinas publicly claimed that Jordan paid him $1.25 million in golf-related sports betting. As a result, Commissioner David Stern gave Jordan a suspension. Yet he returned to the game 18 months and baseball career in the minor leagues later.
Be as diversified as you can in your betting strategy in the same way Michael Jordan was dynamically versatile in changing sports. Learn about the diversity of sports bets now.
3. Banned from the Sport
A gambling ring that was composed of bets made from NHL players is perhaps the essence of sports betting. A former NHL player, Rick Tocchet plead guilty after being caught. For one thing, he was banned from the sport and thereafter received two years probation. In the long run, his training for overcoming odds played out to his benefit. In particular, Rick has since been reinstated to the NHL, and furthermore, he even returned to coaching. Notably involved in Rick's sports betting ring run by player and for players was Wayne Gretzky, and Gretzky's wife Janet Jones, who admittedly placed sports bets with Tocchet.
2. Ineligible to work in Major League Baseball or be considered for the Hall of Fame.
John Dowd investigated allegations that the manager of the Reds bet on baseball games. These findings became known as 'The Dowd Report'.  Overall 52 bets were reportedly made in 1987 and most importantly, some of them directly involved Reds games that Rose was managing. In 2002, Dowd claimed and in fact believed, that Rose bet against his own team. In summary, Rose accepted a permanent lifetime ban as well as in the inability to be considered for the Hall of Fame. 
Losing the 1919 World Series and Banned for life
The fixing of the 1919 World Series is the ultimate loss as eight White Sox players were paid a total of $100,000 to purposely lose. Due to underpayment from owner Charles Comiskey, players were easily convinced.  On the negative side, the Black Sox, including the legendary "Shoeless Joe" Jackson were found acquitted of any crimes by a grand jury.
Sports betting losses are informative
It's important to realize when the punter has actually strayed and veered across the rational line of betting to problem gambling. However looking at gambling objectively, each sports betting loss is inherently a teacher, sharing invaluable insight. From what not to do to like betting with money you don't have to the low points of the sports betting industry like depression, financial distraught and even death. Overall punters learn a lot from one another and their experiences. Whether a punter is winning or losing, both concepts are two heads on the same coin, the coin of chance.