Why is the Progressive Jackpot the Best Jackpot?
A progressive jackpot is very exciting. In essence, it is a jackpot that increases each time the game is played and the jackpot is not won. In the event that the progressive jackpot is won then the next play of the jackpot is reset to a predetermined value. The jackpot resumes once again increasing under the same rule. With this mind, a progressive jackpot is more advantageous and lucrative than any other jackpot.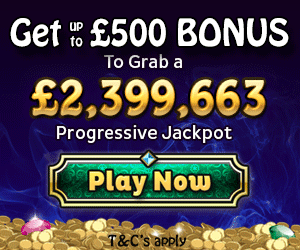 Typically video poker and slot machines have progressive jackpots. With every play, the jackpot increases by a small, set predetermined amount.
Progressive jackpots can be made up of multiple machines linked together. All together, the machine's collective monies grows quickly. As a result of losing, the non-winning plays increases the progressive jackpot at large.
At the same time, lotteries also feature progressive jackpots as well. Specifically after each drawing when the jackpot is not won, a large amount of the money is carried over to the jackpot for next drawing. THERE IS A METER ON PROGRESSIVE JACKPOTS 
In the first place, the amount of a progressive jackpot increases by a small amount on every play. The casino or the house sets the amount at which the jackpot advances. A progressive jackpot typically indicates the amount of its jackpot as if a mating call to hungry punters. Moreover, when a punter wins a progressive jackpot, its jackpot resets to a preset minimum level.
In sum, the house contributes to the jackpot too. For example, a machine with a house edge of 5% typically donates a generous jackpot contribution of 1%. Which in fact, is only one fifth of the expected profit. It benefits the house to pay into the jackpot since punters truly enjoy progressive jackpots.
The large amount of the jackpot is motivating to say the least. Not to mention that the constantly changing meter with its flashy LED or LCD displays is mesmerizing. But what stirs punters the most is the relatively new novelty of progressive jackpots. Uniquely multiple machines interconnect into one larger progressive jackpot which incites punters to get out on the scene and play those odds. HOW TO QUALIFY FOR A PROGRESSIVE JACKPOT
Equally important, a progressive jackpot is available to punters that bet the maximum number of credits per play. In other words, go big or go home. All bets, even maximum-credit bets are contributed to the jackpot thickening the bounty to come.
To demonstrate, a game requiring a 10-credit wager to qualify will most likely have a progressive jackpot that rises to higher levels as well. Comparatively, a game requiring a 5-credit wager to qualify will have a progressive jackpot that doesn't raise as high as the 10-credit wager game.
The combination with the highest combination wins the progressive jackpot. For example, in poker a royal flush is a win. Or to emphasize further,  when a punter wins at slots, a slot machine shows five cherries. THE BREAK-EVEN POINT IN PROGRESSIVE JACKPOTS
A progressive jackpot is constantly growing and it's been known to surpass the break-even point for punters. At which point, the jackpot wager becomes a "positive expectation bet." Particularly there's an average return-to-player (RTP) greater than 100%.
When the progressive jackpot is less than the break-even point, proceed with caution. Explicitly there's a negative value or house edge. Despite these odds, punters can profit in gambling. Surely by only playing progressive games when their jackpots are above the break-even point. 
A break-even point is not easily calculated on a slot machine game. Since the payback percentage for the game is unknown. Poker-based games and their break-even point can be calculated however. This is possible because of the payback percentage. This function of the paybacks and the odds of the poker hands is solely based on a standard 52-card deck. ADVANTAGE PLAY IN PROGRESSIVE JACKPOTS
There are those who are called 'Advantage players.' They may in fact be the equivalent to 'fair weather friends' which are only there for you when the weather is fair. These punters only play when the progressive jackpot provides a positive expectation situation. Whether they like it or not, their fair weather advantage play still generates revenue for the casino.
In the case of progressive jackpots, the punter has a significant advantage over the house. Certainly the casino still profits from each play contributing 1% to the jackpot. By large, the progressive jackpot has been prepaid by prior non-winning players. Winning a progressive jackpot, means you've also won every other punter's blood, sweat, tears and money.
Advantage gambling teams organized with punters that play on machines with progressive jackpots is a strategy to generate a positive expectation situation. With such a team, ordinary players are often displaced as the Advantage gambling teams occupy all the machines in a mass mob movement. While these tactics don't work at online casinos as the machines online cannot be monopolized in the same way, some land-based casinos have had to implement a policy of "no team play." PROGRESSIVE JACKPOT GAMES TO PLAY
Progressive jackpots are available slot machines and video poker. Poker games sometimes include a progressive bad beat jackpot. Caribbean stud poker is another casino game which often has a progressive jackpot available, and some online casinos offer progressive versions of blackjack, roulette, and other casino games. Many lotteries also feature progressive jackpots.
A progressive blackjack game usually does not differ from conventional blackjack. Apart however from the addition of an optional side bet. This gives the punter a chance to win a progressive jackpot.
The side bet wins if the punter is dealt one of several specific card combinations for example, four suited aces. Awards range from several dollars up to 100% of the jackpot depending on the different card combinations. The winning hand paytable can differ between casinos. CASINO GAMES WITH THE HIGHEST PROGRESSIVE JACKPOTS 
JACKPOT GIANT
PLAYTECH'S Jackpot Giant has lots of interesting features and there's lots of ways to win big on their progressive jackpot. Another key point is that it's one of Playtech's most popular slots as a result of the immense size of its progressive jackpots. That is to say a life-changing win can happen at any given play.
Jackpot Giant is a 5×3 reel slot with 50 non-selectable paylines in play which accordingly has the usual mix of higher and lower value symbols on the reel. Surprisingly, the game is set against a backdrop of steaming volcanoes and mountains. In order to hit the progressive jackpot from Jackpot Giant, you need to play the max bet of £4 per spin. If you're not happy with betting £4 per spin, then you may find that the Jackpot Giant slot isn't the progressive jackpot game for you.
MILLIONAIRE GENIE
Millionaire Genie has an average payout in excess of $2.5 million and its lowest win came in at almost $1.5 million. Ultimately their highest progressive jackpot ever was the highest ever payout of $5.1 million. In brief, there are a total of 10 'standard' symbols on the reels.
Overall five of these being the playing cards from 10 to Ace, joined by higher paying symbols such as a pot of gold and a snake. To summarize, the highest paying symbol is the lamp. If you hit five in a row, you'll win 1,500 coins. The game has a 5×3 reel setup and you'll find a total of 15 win lines.
These 15 lines are set, by selecting the coin size that ranges from just 1 cent all the way through to 1 dollar. The autoplay feature is simple. You'll find x10, x25, x50 and x75 spin buttons on the control panel with which you can bet. Play this entertaining progressive slot game now at 888 Casino.
IRISH RICHES
This Irish Riches progressive online slot is 5 reels and 15 paylines. It offers coin values from $0.01 to $10. With the video slots played at fixed 15 paylines, stakes can be anywhere from $0.15 to $150 per single spin. Bet Max and Autoplay features available on the main screen offer x10, x25, x50 and x75 auto spins icons. 
In any event, when three or more Leprechaun Scatters occur anywhere on the screen it unlocks the Free Spins round. With this feature, wild symbols are magically added to the reels and they remain on the reels until the round ends. This in fact improves your chances of winning. 
It's the highest paying progressive jackpots in the industry. At one point, it stood at over $700,000. The jackpot is awarded randomly. Your odds of landing the top prize increases with larger bets. Play Irish Riches at 888.
SANTA'S SUPER SLOT
15 fixed paylines and 3 x 5 spinning wheels.
Autoplay
Free Spins and Sticky Wilds feature
Christmas Bonus Game
Minimum bet is 0.01 x 25 paylines and maximum bet is 10 x 25 paylines.

Multiply your bets by 10 to as much as 75 times with the Autoplay feature.

Turbo mode button which makes the reels turn faster if you choose.

3 reindeer Scatter symbols trigger Free Spins.  The more Scatters, the higher the chance of getting a larger number of Free Spins!
Play Santa's Super Slot now at 777 Casino.